*FTC Disclaimer: These knives were sent to me free for my consideration.  This is not a sponsored post.  As always, all opinions are my own.*
The holiday season is here!  The usual surplus of food doesn't mean you have to fall off the low carb wagon.  Many food blogs have incredible day-of recipe ideas for turkey and sides that will keep you on track, but then there's the question of "What do I do with all these leftovers??"  I hate wasting food and don't want to eat turkey soup for days after Thanksgiving this week, so I decided to come up with a twist on fried rice that will make leftovers taste like a whole new meal.  The best part about this dish is you could throw in a whole bunch of veggies you have on hand and it will still taste great.

I started by gathering the above ingredients, including pre-cooked turkey.  If you are making this any other time of the year, you could always substitute roasted chicken in its place.

I started this dish by prepping all of my vegetables.  First, I chopped off the stems of the brussels sprouts, peeled away the outer leaves, and then sliced them as thinly as possible.

Next I chopped half of a large yellow onion.

I chopped florets of cauliflower off the head and put them into my food processor.  I turned it on low for about 10 seconds until the cauliflower had a rice-like consistency and set it aside.

My final stage of prep was to cube the turkey into bite-sized pieces.

All of this prep work was made easy by my brand new ceramic knife set from SCANDI Essentials.  I am in love with these knives!  The 8-inch and a 5-inch chef knives are super lightweight which makes it easy on the wrist when chopping vegetables and proteins, but they have a sturdy feel and solid grip.  The extremely sharp edge requires no sharpening, and works great on all types of food.  I love the protective sheaths included in the set that will keep the blades protected for a lifetime.  I highly recommend these knives for yourself or as a gift this holiday season to someone who loves to cook.  SCANDI Essentials has been extremely generous and is offering my followers a 10% off coupon to anyone who purchases a set of knives on Amazon – just use the code ALISON10 at checkout for the discount!  To show off these knives, I put together a short video demonstrating my food prep for this recipe: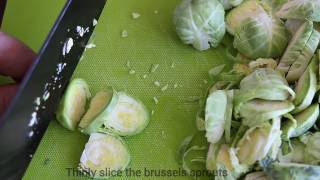 I heated the sesame oil over medium heat in a large pan and then added my brussels sprouts and onions.  I let them caramelize for about 7 or 8 minutes before seasoning with salt and pepper, and then cooked them down another 3 or 4 minutes or so.

Next I added the cooked turkey to re-heat in the pan and spooned in the cauliflower rice.  I let it cook for about 3 minutes before pouring in the tamari soy sauce and stirred for another 2-3 minutes to let all the flavors come together.  I made a circle in the center where I cracked in two eggs, scrambled them, and then stirred the eggs into the rest of the dish.  I seasoned everything once more with salt and pepper and after another 3 or 4 minutes of cooking it was done!  The sprouts and cauliflower are extremely tender and compliment the turkey perfectly.  I love a healthy version of other classic dishes, and this one is exactly that while using leftovers from the big Thanksgiving dinner!
Holiday Leftovers Fried Rice
Ingredients
12oz cooked turkey breast
1c raw brussels sprouts
2c raw cauliflower
1/2c yellow onion
2tblsp sesame oil
2 eggs
1/2c tamari soy sauce

To Taste

Salt
Pepper
Instructions
Slice the stems off each brussels sprout, remove the outer leaves, and then slice into thin ribbons; set aside.
Chop the yellow onion and set aside.
Cut a head of cauliflower into florets, add to a food processor, and blend until cauliflower is a rice-like consistency, about 10 seconds; set aside.
Chop the pre-cooked turkey into bite-sized pieces; set aside.
Heat sesame oil in a large pan over medium heat and saute the sprouts and onions until slightly caramelized, about 7 or 8 minutes; add salt and pepper and continue to cook another 3 or 4 minutes.
Add the turkey to the vegetables to warm through, about 2 or 3 minutes.
Add the cauliflower rice and tamari soy sauce and cook another 3 or 4 minutes until all the flavors combine.
Make a circle in the center, crack in the two eggs, and cook until scrambled; stir everything together and serve.
Nutrtional Information
Per serving: 327 calories, 13g total carbs, 10g net carbs, 14g fat, 35g protein (Note: Please remember these numbers are based on the brands I used and may vary slightly with other brands.)
https://butterisnotacarb.com/holiday-leftovers-fried-rice/
© 2014 Butter Is Not a Carb
Enjoy this post? Subscribe to read more like it!